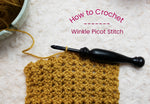 How to: Crochet The Winkle Picot Stitch
One of my most favorite things about crochet, well I have a lot of favorite things that I love about crochet, but I am obsessed with crochet texture, the amazing ability to combine basic crochet stitches to create this gorgeous texture. I could crochet gorgeous texture all day long and the challenge of combining different crochet stitches to see what it may create. When you try that amazing texture with different yarn weights, colors, even trying it with variegated yarn will change the way the crochet stitch comes out and it's amazing!
Disclaimer: This post contains affiliate links.
Beanies that I Love!!
1.  Vintage Ripple Beanie   2. Morgan Beanie   3. Jelly Bean Beanie
Well hello gorgeous, that is what I was saying as I worked up this gorgeous swatch. When you can create a gorgeous texture, especially using simple crochet stitches, it is my favorite kind of magic.  This gorgeous stitch would like amazing in just about anything, you could make everything with these stitch. I love that this stitch has a lace look within the texture but it isn't lace and can be created with any yarn weight and coordinating crochet hook.
So grab you yarn, crochet hook and get ready to get hooked on the Winkle Picot Stitch, trust me, you will become addicted and will love making it and guess what?  This crochet stitch is fun to make! So lets dive in!
Pin to Pinterest to save for later!
-------------------------------------------------------------------------------------
Projects that I Love!!
1.  Stained Glass Blanket   2. Heidi Blanket  3. By the Bay Tunic
Need more inspiration? A fun textured blanket to make is the Oliver Blanket!  This blanket can be customized any way you like! ~Ashley