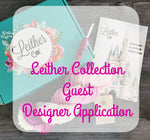 Leither Collection Guest Designer Call
Did you know that we have a monthly crochet
subscription box called the Leither Collection?
With the love of crochet and everything about it we started a crochet subscription box back in October 2018.
I have been designing crochet patterns since 2012! I love coming up with new designs and having a theme to create those designs. After my husband started making crochet hooks last year after my crochet injury, I became inspired to crochet even more!
Then I started hand dyeing yarn and designing based on the colorway and weight of the yarn, that is when the Leither Collection Subscription Box was born!
Disclaimer: This post contains affiliate links.
We love creating boxes every month and we are looking for guest designers for Leither Collection!
Beanies that I Love!!
1. Vintage Ripple Beanie 2. Morgan Beanie 3. Jelly Bean Beanie
We are looking for creative crocheters who have strong pattern writing skills! You would have creative freedom focusing on creating a one skein project that is either a wearable, accessory or for the home. The design must be a NEW design and not published anywhere else!
What we are looking for:
You would be asked to design a one skein project, with creative freedom.
You would need to write a blog post introducing yourself and your design (you would receive a template guideline).
Submit pattern in both word and PDF format
Take 3-5 work in progress photos
Take 5-10 final photos of the design
What you will receive:
You would receive an advanced box of an upcoming Leither Collection Subscription box to include one skein of hand dyed yarn and a crochet hook to crochet your design. The contents of the box (as well as your design), must be kept a secret as here at Leither Collection, our box themes and contents are a secret, so that they can be revealed as a surprise on reveal day!

We use different yarn weights (sock, sport, dk, worsted and bulky) and crochet hook sizes (10 different sizes from 2.25mm - 6mm) every month.

The crochet pattern would be published on the Leither Co. blog on reveal day. You would retain publishing rights to sell the PDF copy in your own store beginning on reveal day (around the 20th of the month).
Payment: Depending upon the design level, you would receive a one time payment of $50-$100 within 2 weeks of reveal day.
Opportunity to join our affiliate program.
What to do next:
If this is something that sounds like it would be a great fit for you, click the "Leither Collection Guest Designer Application" link below and apply. If we find that you are a good fit for the Leither Collection, we will send an email giving you some box options to choose from.
Need more inspiration? A fun textured blanket to make is the Oliver Blanket! This blanket can be customized any way you like! ~Ashley