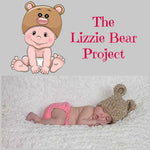 I can't believe Elizabeth is turning 2 years old in 2 weeks, so it is time to prepare this years Lizzie Bear Project.  Last spring and summer I made 51 beanies, all different from 51 crochet patterns that I designed in the previous years and made them and shared Elizabeth's story and the beanie donation story.  Then in October I donated 30 beanies after making them in September which is NICU Awareness Month.  This year I would like you to join me in pledging to make 24 bear beanies in 24 days and then donating them to your local NICU.  If you aren't able to donate to your local NICU, there are a lot of organizations you can find online but searching "donating newborn hats" and you can pick the organization that best suits you.
Disclaimer: This post contains affiliate links. 
Elizabeth spent 24 days in the NICU, 24 days our lives revolved around the hospital, our life being turned upside down just praying she got to come home soon and we could begin our life as a family of 5 all under one roof.  Looking back now it was a small chapter in her life/our life but it was a large chapter in my heart and going through that I wanted to give back by donating a bear beanie to that new newborn who is spending time in the NICU and a keepsake they can keep and look back on.  Elizabeth came to the NICU with her with own beanies that I had made during my pregnancy with her, non of them were bear beanies but it was when I was rocking her in the NICU I came up with the idea for the Lizzie Bear Project (Lizzie Bear is her nickname).
The Lizzie Bear Project official start date this year is August 17th (Elizabeth's 2nd Birthday) and will run until September 9th (the day she was discharged). Over the next two weeks (August 7th & August 14th), I will be sharing two patterns that I have designed for the Lizzie Bear Project and two previous bear beanies.  The will be free on the blog and two will include tutorials.  If you sign up below, these four bear beanie crochet patterns will be emailed to you over the next two weeks.
The Lizzie Bear Project is super simple, you pick the beanies you want to make and simply add bear ears and pledge to make 24 beanies to donate. If you have a NICU story, I would love to hear your story! Comment below with your story and or share on social media and tag us with #LizzieBearProject
Come join the Lizzie Bear Project and Pledge to make 24 beanies in 24 days!
By signing up below, you will receive 4 bear beanie crochet patterns by August 17th
I was 36 weeks pregnant with our 3rd daughter and my blood pressure was becoming out of control, it would be borderline at my appointments and was causing me to have headaches and feel lightheaded. At my 35 week OB appointment, my doctor had decided to schedule the c-section for 37 weeks, but when I went in to my 36 week appointment, my blood pressure was high and staying high during my appointment.  They sent me straight over to be monitored at the hospital (this wasn't my first monitoring trip, it was actually my 5th trip) and I figured like every other trip, I would be sent home after a few hours.  That wasn't the case, my blood pressure was initially high and when I laid very still they could get my blood pressure down but not to where they wanted it to be to send me home.  I was also feeling lightheaded with a headache and they noticed some swelling in my feet.  They decided the best thing to do was to get me comfortable and in about 5 hours they would begin the c-section.
(Last belly picture)
They admitted me and monitored my blood pressure very closely, for the most part they could keep it down but if anything changed (like multiple visitors or getting my blood drawn) it would go back up.
Thank goodness for t.v. and my phone because it was very boring sitting there waiting for 5:00 pm but when it finally rolled around, Eric got suited up in his bunny suit and we walked down to the delivery room.  Eric had to wait until they got me situated to deliver Elizabeth before he could come in and join me.  I hated being alone not being able to hold his hand receiving the spinal time and all the positioning they had to do to prep me in the super cold sterile room, but finally it was time for Elizabeth to be born.  When she was born, she sounded like a little squeaky toy, it was the cutest sound.  The checked her out and let me see her for a few minutes but they told she sounded like she had fluid in her lungs and wanted to take her to the NICU to be evaluated.
(She looked so much like our two other girls)
However, this wasn't my first NICU experience, but I wasn't prepared for the days ahead.  When our second daughter Holley was born, my husband noticed she was having a little difficulty breathing in the nursery and thank goodness he was there to see it and get help.  She spent 5 days on and off in the NICU, 2 days in the NICU and then 1 day with me and then 2 days back in the NICU because she wasn't eating well enough and had developed jaundice.  I spent 4 days in the hospital recovering from the c-section with her, so she only spent 1 night there where I stayed at home. I decided to go home and spend time and the night with our almost 2 year old Ava because Holley would have to spend at least 24 hours under the lights and I wouldn't be able to hold her much.
(Holley 6 years earlier)
So when they took Elizabeth to the NICU I didn't think it would be a long period.  A little bit later the doctor came down to my room to talk to me about Elizabeth's lungs, they weren't able to clear the fluid out any natural way so they wanted to give her medicine to help.  I said okay, whatever we have to do. Because she had the fluid in her lungs and wasn't able to breathe well, they put her on oxygen and then put her on a feeding tube.
For the first 12 hours of her life, I could only see her via photos that I made my husband go down to the NICU and snap photos for me.  Even though it was night time and I was exhausted from the day I couldn't sleep, I told them to please give me Benadryl after my spinal nap because I knew from my experience with Holley it would make me itch like crazy, but they took forever to get it to me so the itching was bad before it got in my system.  I barely slept, between the itching, being uncomfortable and the husband snoring, it was hard to sleep. At home I could just give him a nudge and get him roll over to be quiet but that was impossible not being able to move.
(Elizabeth in her bed warmer all hooked up)
But as soon as I could get out of bed at 6:00 am, I had them take me down there to see her. I was still weak, so I just peaked in at her and there were all sorts of tubes, cords, IV's everywhere.  I sat with her for awhile but then I was exhausted and the pain medication made me feel very blah.  So I went back to the room to order breakfast and wait for it to arrive, I started pumping. I wanted to exclusively breastfeed but when your baby is a long hike away (especially after a c-section and she isn't able to swallow yet) you have to pump. I then ate my breakfast and felt energized and a bit more like myself, so I called my nurse and asked her to please help me back down to the NICU.  That time I was able to walk, with help of course.
(My first trip down to the NICU)
Once I got down to the NICU they told me I would be able to hold her and do skin to skin, I of course was feeling even more better because I finally got my hands on my new precious little girl. I could of just sat there for hours snuggling her. But then I had to go back to my room and pump some more and eat lunch.  My older girls came up to the hospital to visit hoping to see their baby sister but hospital policy is only sibling visitors on Saturday and today was Friday.
(Finally got to snuggle my baby)
Since we had experienced a small glimpse into the NICU life previously, we figured at some point Elizabeth would get to join us in my room or that we would get to have some family time of us all together but it wasn't how I imagined it.  Every couple of days she had a hiccup that would extend her stay an additional 3-5 days.  As soon as we got over one hurdle and they told us okay, if nothing happens in these 3 days, she gets to go home on this day, well get would get all the way to day 3 and hello hiccup.  This went on for 24 days, yes 24!
(Love these snuggles)
I was discharged from the hospital on day 3 and not having any idea in sight when Elizabeth was going to be joining us at home was the hardest ride home ever! I tried to put on a happy face for our first family photo of 5 but the thought of after we take this photo, there are four of us going home today not five.   Okay, just writing this little blurb has brought tears back to my eyes because it was one of the hardest days of my NICU journey and little did I know we had 21 more days to go.
(Our first family photo)
The next day our oldest daughters Ava and Holley had their first day of school and I wanted to be there to take them to school and walk them to their classes like I had done every previous year.  So Eric and I took them to their first day of school and then headed up to the hospital to get in our snuggles with Elizabeth. She was finally doing well enough that we could do everything ourselves, like feed her with a bottle but we had to make sure she was drinking slowly and not choking, we also got to change those lovely diapers and it was time to wear some clothes and those beanies I made.  Her being in the NICU was a little less tough if we got to be there and do the things mommy and daddy's do. We left to eat a late breakfast and then went back up to see her again before picking up big sisters from school.  The next two days were repeated the same way but then Eric had to go back to work, so I had a family member drive me up there and back for a couple days until the next Monday when I could drive again.
(Daddy and his 3rd little girl)
When she was in the NICU, I was constantly back and forth to the hospital. During the week, I dropped my older girls off at school at 7:05 am, then went straight to hospital to get there about 7:40 am, so I could get close parking. Then I was there until about 1:30 pm, then I went to my older girls school to pick them up, then we did our afternoon/nightly routine and then on about half the nights, I went back up to the hospital for her 9:00 pm feeding.  When I wasn't there, I would call about an hour after her latest feeding to see how it went and sometimes I even got up in the middle of the night to call the NICU just to check on her.  Some days I have no idea how I went nonstop going back and forth.
(Her nurse put a little bow on her)
On Saturday's it was family day, so we would take turns, first it would be me and a kiddo and then dad and a kiddo (because you are only allowed two visitors at a time) going in and feeding, snuggling, etc. Then on Sunday we would have the grandparents watch Ava and Holley so Eric and I could go spend time with Elizabeth in the NICU together.
(It was time to leave for the day but I just couldn't put her down)
This went on for 24 days but then on day 23 I was told that tomorrow she could go home but they wanted to have a night where I stayed with her.  I finally got to have her in a room with me, just me, no nurses sitting with us, just Mama!!  In order for them to agree to discharge her and also for my peace of mind they put her on an apnea monitor (which took a good few weeks to figure out to keep it from hollering loudly when nothing was wrong).  With the exception of false alerts with the apnea monitor the night went great and that next morning she was ready to be discharged.
(Just me and you baby!)
Eric came up to the hospital after taking Ava and Holley to school and helped get everything ready to discharge Elizabeth, we then headed out with everything in tow.  We went home and enjoyed just a couple hours of the 3 of us and then we all went up to the school to pick up Ava and Holley from school and they were so excited to see their baby sister was finally home and we could start our journey of being a family of 5 under one roof.
(She escaped, okay she was discharged to us!)
The Lizzie Bear Project 2018 begins August 17 and during the 24 days I will be sharing the beanies I make as well as a photo from that day from the NICU and sharing a little more of our daily NICU journey story. There is so much more to the daily life in the NICU that I want to share, so I be sure to follow me on Facebook and Instagram to follow along.
(Finally home)
Need more inspiration?
A fun textured blanket to make is the Oliver Blanket!  This blanket can be customized any way you like!
~Ashley