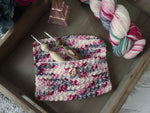 Paris Crochet Hook Pouch Crochet Pattern
Our January 2021 merino project for the Leither Collection Subscription Box is the Paris Crochet Hook Pouch, a gorgeous textured crochet pattern that is a fun project to make and a place to store your crochet hooks. Back in May 2020 for a Blooming Flowers Collection, I originally designed a crochet hook pouch for the box but we due to limited availability on the crochet hook we needed, we had to do a last minute crochet hook size change. I didn't want to remake the crochet hook pouch in a different crochet hook size because it would of changed the look of it, so I decided to design new patterns for the box and put the Blooming Flowers Crochet Hook Pouch in the store and ya'll loved it. I loved designing it as well. When I was planning our 2021 Leither Collection Subscription Box crochet patterns, I knew I wanted to design another but different, this time we could fit more than one crochet hook in our pouch as well as the other notions that we need to make a crochet project. So grab your yarn, crochet hook and get ready to get hooked on the Paris Crochet Hook Pouch crochet pattern.
Disclaimer: This post contains affiliate links.
Let's talk about the yarn that I used to design the crochet hook pouch. This month for our January 2021 Leither Collection Subscription Box, I created the Paris Colorway, it is a gorgeous 100% superwash merino yarn that is Aran Base, this yarn is super squishy and a dream to work with. It has shades of green, pink, grey and cream. I was wanting to create a colorway where we could start with a blank canvas (cream) and add pops of color and see those pops of color (pink, green and grey) when you work up the project.
Beanies that I Love!!
1. Vintage Ripple Beanie 2. Morgan Beanie 3. Jelly Bean Beanie
The Paris Crochet Hook Crochet Pattern can be found in my pattern store as an ad free and beautifully formatted PDF or for free here on the blog.
Use coupon code PARIS33 to download for free in our store on March 24, 2021 Only
Please Read: To download the pattern for free, please follow these steps.
Add the pattern to your cart.
Visit the cart
Enter your email address
BEFORE you click Checkout, click "Redeem your code" and enter the coupon code above and click apply.
This will change the price to $0 and you can checkout without being prompted to enter payment information.
Please make sure to use the coupon code before checking out, refunds will not be issued.
Sizing
Gauge: 18 Stitches and 15 Rows = 4"x4" (hdc)
Finished Measurements Before Seaming: 5" wide x 10.5" long
After Seaming Measurements: 7.5 wide and 4.5" long
Pattern Key
St/Sts: Stitch(es)
Sl St: Slip Stitch
Ch: Chain
Sc: Single Crochet
Hdc: Half Double Crochet
Dc: Double Crochet
RS: Right Side
Notes
Row 1 is the "Right Side" of the fabric, this is important to note when seaming.
Chain 1 will NOT count as a stitch.
Paris Crochet Hook Pouch
Chain 37 Row 1: (RS) 1 Sc in 2nd ch from hook, skip next st, *(1 sc, 1 dc), skip next st; repeat from across, 1 sc in last st. - 36 Row 2: Ch 1 and turn, 1 sc in same st, *(1 sc, 1 dc) in next st, skip next st; repeat from across, 1 sc in last st. - 34 Rows 3-39: Repeat Row 2 Fasten off and weave in any loose ends. Before Seaming Measurements: 7.5 wide x 10.5 long
Seaming
Lay the panel flat with the right side facing up, row 1 will be at the bottom and row 39 will be the top. Fold up the bottom 4 inches and whip stitch both the left and right side of the pouch. The pouch will now be inside out, flip the pouch right side out. Now sew your button onto the pouch, you will want to sew button onto the bottom fold, with the top of the button 2 rows down.
Need more inspiration? A fun textured blanket to make is the Oliver Blanket! This blanket can be customized any way you like! ~Ashley